Spread financial intelligence
The crypto platform Cake Defi (www.cakedefi.com), founded in June 2019, is operated by well-known Austrian entrepreneur, blockchain expert, and former MLM artist Julian Hosp. Cake Defi provides access to a wide range of decentralized financial services, or short "DeFi," enabling customers to generate returns from their crypto and digital assets. On its website, Cake DeFi brags about its 400,000 clients and a $700 million asset base. However, BaFin has determined that the company may be conducting unauthorized banking business or financial services in Germany.
Key data
The Cake Narrative
Cake DeFi swiftly responded to the BaFin warning via Twitter and claimed that it would comply with all local laws and regulations in Singapore's home jurisdiction. However, the truth is that Cake is available in Germany and other regulatory regimes.
The Colorful Cake Founder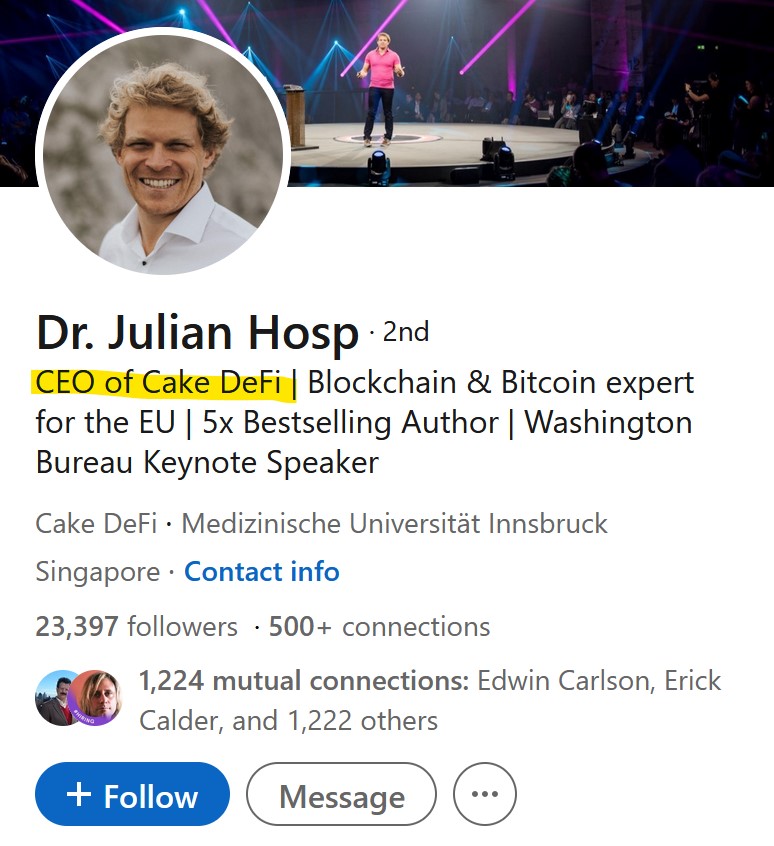 Cake founder Julian Hosp (LinkedIn) is a notorious crypto entrepreneur, speaker, and celebrity. He craves being in the spotlight and being admired. However, in all his published resumes, biographies, and on LinkedIn, Hosp conceals a dark part of his past – working for MLM scheme Lyoness.
The Austrian comes from the MLM field and has worked for the infamous Lyoness MLM scheme, where he was one of the top leaders with 25,000 people in his downline. Victims brought numerous criminal charges against Lyoness, prosecutors in different jurisdictions investigated, penalties and bans were issued.
Amidst the crypto and ICO hype in 2016, Julian Hosp celebrated himself as a freshly baked crypto guru and co-founder of the Singapore-registered crypto company TenX. The crypto venture raised a whopping $80 million with massive social media campaigns by selling its PAY token to around 4,000 investors in its ICO.
It later emerged that Hosp was not a co-founder but joined TenX only shortly before the ICO. Whether he led his MLM people into TenX remained unclear. In 2019, TenX and Julian Hosp parted ways. He then cofounded Cake Pte Ltd together with U-Zyn Chua (LinkedIn), they claim.
Read the Julian Hosp story here!
The DeFi Playground
The TenX and PAY tokens were unsuccessful despite the $80M and merged with DeFi venture Mimo (www.mimo.capital) in April. DeFi is the new pitch of the old ICO heroes from the 2016/17 era.