Spread financial intelligence
The Austrian Financial Market Authority (FMA) issued an investor warning against the MarketBull (www.marketbull.co.uk) broker scam. Market Bull Ltd, registered in the UK with company number 13145541, is allegedly the operator. At the company founded in January 2021, Russian Ramil Gafiullin, born in February 1986, is a director and beneficial owner. On the website, the scammers claim that the UK Financial Conduct Authority (FCA) would regulate MarketBull. This is bullshit, of course.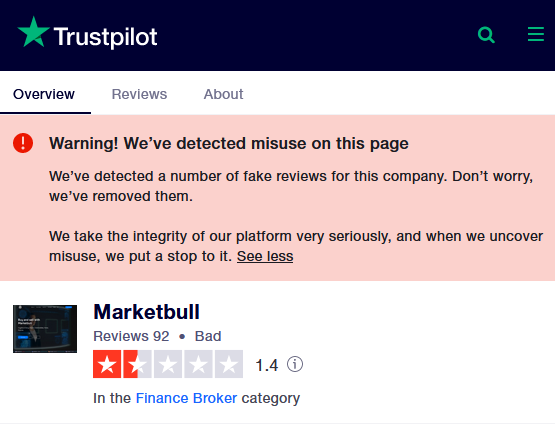 The cashier of the MarketBull scam runs under the domain https://abncbp.com. We found this cashier domain already in other scam environments such as in FXActiv (report here). Deposits were possible in our review today via credit and debit cards and cryptocurrencies via Estonian crypto payment processor Grizzly Techland OÜ d/b/a ChangeCoins (www.changecoins.io). Ukrainians run ChangeCoins with Yuriy Degtjarevs registered as the company's sole director.
On Trustpilot, MarketBull has a remarkably poor 1.4-star rating with a "Bad" trust level. Trustpilot has also posted a Fake Review warning.
MarketBull is a poorly made white-label scam apparently operated by Russian or Ukrainian scammers. Stay far away from this scam and save yourself from losses, frustrations, and the theft and misuse of your data.