Spread financial intelligence
It was perhaps the largest cybercrime organization in Europe, but certainly, it was in Germany. The public prosecutor's office in Saarbruecken announced that the cybercrime case surrounding the German Uwe Lenhoff, who died in prison, had produced more than 200,000 victims in Germany alone. Lenhoff and Dutch real estate investor Dirk-Jan Bakker established Veltyco Group PLC, which is listed on the London Stock Exchange. After Lenhoff's death, the company was renamed B90 Holdings PLC (www.b90holdings.com) and operates the Bet90 sportsbook and casino betting platform (www.bet90.com), licensed by Malta Gaming Authority (MGA). Bet90 has been funded with money stolen from the victims in this very same cybercrime case.
The Cybercrime Organization
Uwe Lenhoff was part of the global cybercrime network around the Israelis Gal Barak, Gery Shalon, and the Russian Vladislav Smirnov. Each of them has its own cybercrime division, but they have cooperated closely with each other.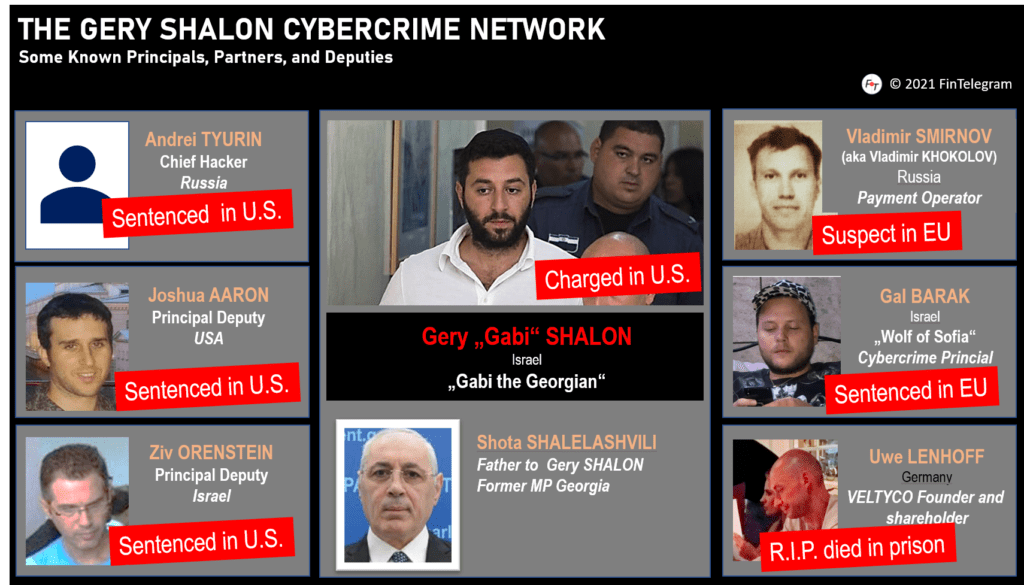 Gery Shalon made history in the U.S. with the largest cyberfinance crime ever. He hacked several banks and financial publications, allegedly stole 80 million bank customers' data, and used it to run a huge pump and dump scheme with penny stocks. He ran a huge payments network to launder the money. Among them was a crypto exchange. Shalon comes from the online casino and gambling sector and has used DDoS attacks to force his competitors out of the market or cooperate with him. In 2015, Shalon was arrested in Israel and extradited to the United States. To this day, his records are sealed. He is said to be cooperating with U.S. authorities and has already sent several ex-accomplices to prison.
The Russian-Israeli spammer, scammer, and cyberfinance pundit Vladislav Smirnov is an old friend and accomplice of Shalon and has already been convicted once in the U.S. for his cybercrime activities. Through Smirnov, Shalon also has the best contacts in the Russian cybercrime scene. He allegedly uses these contacts to assist U.S. authorities in the fight against Russian hackers. It must be extensive and rewarding cooperation because 6 years after his arrest, there are still no charges. He was or is in a kind of house arrest in New York and is only allowed to leave the country with the authorities' permission.
Gery Shalon's father is a former Georgian Member of Parliament Shota Shalelashvili. According to allegations by the Georgian opposition, he was allegedly close to his son's cybercrime and money laundering activities. Both father and son have Georgian and Israeli citizenship. Shota Shalelashvili had to serve a prison sentence in Israel for tax fraud about a decade ago. He then returned to Georgia and started his political career. In 2020, Shalelashvili resigned from his political functions.
The Veltyco and B90 thing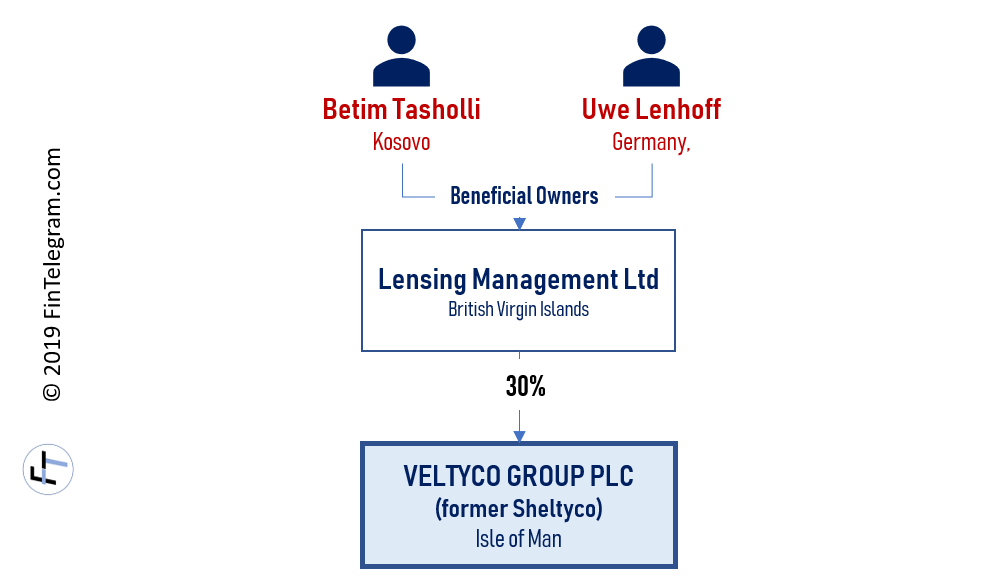 In 2016, Lenhoff and his partners Dirk-Jan Bakker founded Veltyco Group PLC and took it public. The German entrepreneur and investor Falk-Uwe Preussner joined them soon as a major shareholder and strategic partner. The Dutch accountant Marcel Noordeloos was their chief financial officer. They positioned Veltyco as the front end and money laundering machine of a vast cybercrime network. This network included vast scams such as Option888, XMarkets, TradoVest, LottoPalace, and the sports betting venture Bet90, which we do not see as a scam. These brands have been operated via a global network of legal entities, trustees, and frontmen.
The Kosovar Betim Tasholli played a leading role in this and was arrested by German police in 2019. He was one of Lenhoff's lieutenants and supervised the organization's boiler rooms. Please read more about his role here in this report.
He is currently awaiting indictment. Tasholli sold Bet90, founded by Lenhoff, to Veltyco through a German-Maltese company construction. Whether and how Veltyco (now B90 Holdings) is affected by the indictment in Germany is kept secret by the prosecution. Access to the files will only be available in a few months. A total of 200,000 victims of this cybercrime network are said to have been produced in Germany alone.
After Lenhoff's arrest and death, Veltyco was renamed Bet990 Holdings. Where the dark companies and brands disappeared to is not known to this day. Also, not what became of the dark companies in Bulgaria, Montenegro, and the offshore destinations. Until at least 2019, B90 Ventures was also the sole shareholder of Velmont MNE in Podgorica, Montenegro. This company was founded by B90 Holdings board member Marcel Noordeloos who also received the Power of Attorney.
Through Ulen Holdings Ltd, registered in Cyprus, the Lenhoff family and/or his heirs are apparently still a major shareholder of B90 Holdings. Victims of Lenhoff and Veltyco a/k/a B90 Holdings and their scams have not been compensated so far.
The Maltese Branch
After the arrest of Lenhoff and the crushing of his dark companies by law enforcement, only the Maltese branch with the Bet90 activities is left. Malta was an important hub for Lenhoff's cybercrime activities. Here is the key data on the Maltese branch of this group:
In 2014, Lenhoff set up Payific Ltd (now Oneworld Payments Ltd) as an unregulated and illegal payment processor for his many scams;
Payific provided part of the initial funding for Bet90 Sports Limited;
B90 Holdings main operating subsidiary B90 Ventures Ltd, Isle of Man, is the sole shareholder of Malta-registered Quasar Holdings Limited;
The latter owns Bet90 Sports Limited, another Maltese registered company;
Bet90 Sports Limited is licensed by the Malta Gaming Authority (MGA) and operates the website www.bet90.com;
Both companies show the as sole director Iosif Galea, a Maltese national with a coloured past.
In February 2020, the Maltese Iosif Galea (LinkedIn) acquired one share in Bet 90 Sports Limited from Betim Tasholli, a Kosovo resident who is one of the main suspects in the cybercrime case around Uwe Lenhoff and his organization. Tasholli was arrested by the German police in 2019 and is waiting for the indictment and the trial.
There were changes in the ownership of Quasar Holdings Limited. Until 2020, the shareholders were the German firm Binbar GmbH and the Isle of Man firm Veltyco Ventures Limited. The latter was renamed B90 Ventures Ltd and is the sole shareholder of Quasar Holdings now. Iosif Galea is still the company's only director.
Dirty Money and Money Laundering allegations
B90 Ventures, the beneficial owner of Bet90 Sports, is the main operating subsidiary of the public-listed B90 Holdings and is managed by Ronny Breivik as its CEO.
In February 2021, a whistleblower provided FinTelegram with comprehensive documents and emails from Accounting Services Ltd, Malta, the then accounting company of Bet90 Sports. These documents show that, at least between 2017 and 2019, false invoices were issued at Bet90 Sports on the instructions of Veltyco director Marcel Noordeloos. Our whistleblower claimed that Bet90 Sports has been involved in money laundering and provided the documents to authorities.
We have a signed copy of a loan agreement signed in July 2017 between Bulgarian Winslet Enterprises Ltd and Bet90 Sports Ltd. Winslet Enterprises, the notorious center of Lenhoff's money-laundering scheme, granted a loan of more than €1.3M to the Maltese Bet90 Sports. Iosif Galea signed the loan agreement on behalf of Bet90 Sports. We also have a copy of the balance confirmation of the loan provided by Payific Ltd (company register data), a company warned against by several regulators.
Public Records still show Nexia BT, a defunct Maltese audit firm, as Bet 90 Sports Limited auditors. Brian Tonna of Nexia BT is currently being prosecuted at Malta Law Courts for money laundering charges. Amongst the charges, Tonna is also being charged for falsifying documents.
The Winslet Enterprises and Payific funds came from Lenhoff and Veltyco scams and were dirty. The provided loans were used to finance the establishment of Bet90 Sports as an MGA-regulated sportsbook and online casino entity. Also, in this respect, the MGA-regulated company is a legacy of the cybercrime past of B90 Holdings a/k/a Veltyco Group.
It can be established beyond any reasonable doubt that Bet90 Sports has the money of thousands of defrauded victims of Lenhoff, Veltyco Group a/k/a B90 Holdings scams. We hope that the German prosecutors will also take a close look at this.
The Maltese Network
Brian Tonna of Bet90 Sports auditor Nexia NT had excellent connections. Evidently, he enjoyed lunch meetings with the disgraced former MFSA CEO Joseph Cuschieri. Fintelegram has reported extensively on Cuschieri over the past months. Iosif Galea is a former colleague of Joseph Cuschieri during his time at the Malta Gaming Authority. The murdered Maltese journalist, Daphne Caruana Galizia, revealed that Galea was the key official for one of the two Maltese internet gaming companies seized by Italian police In a major crackdown Ndrangheta, Reggio Calabria's crime syndicate. Iosif Galea featured prominently in a case that involved blackmailing.
To the amazement of many, despite his involvement in these publicly known scandals, Iosif Galea is still considered fit and proper by the Malta Financial Services Authority. Galea presently is a key official, director, MLRO, or compliance officer of several Malta-licensed online gaming operators (www.gamblingconsultantmalta.com).
The Maltese officials who decide whether an individual is fit and proper to hold such a company position are disgraced Edwina Licari, known as Las Vegas lady within the Maltese community, Christopher Buttigieg, known for his close relationship with Joseph Cuschieri, Michael Xuereb, Ivan Zammit, and Michelle Mizzi Buontempo. The conflicts of interests of these Maltese officials are not made public.